Main content starts here, tab to start navigating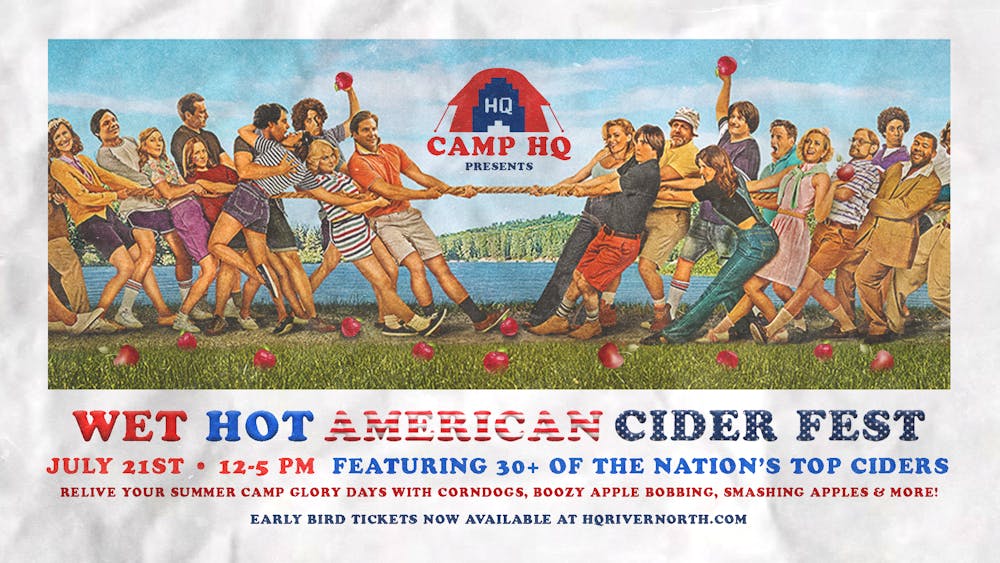 Camp HQ Presents...
Wet Hot American Cider Fest
Featuring 30+ of the the country's most desirable hard ciders, camp games, and summer food favorites - HQ transports you back to those summer camp days with this cult-classic inspired cider fest. Whether you're bobbing for boozy apples, or smashing apples with a sledge hammer.. this event will definitely give you summer camp nostalgia.
If you need to refuel from all of that cider-y goodness, enjoy summertime favorites such; as corn dogs, funnel cakes, tater tots, and more! Oh, and don't forget about our massive selection of free arcade games that are ready to be played at any time!
With purchase of a ticket you will receive admission to the event as well as 6 tickets to be used at your discretion. If you'd like to sample more ciders or play more of the summer camp games you can purchase ticket packages on site in the quantities of; 6, 12, and 24. Each cider or game will be worth 1 ticket each.
2019 Cidery lineup includes:
Uncle Johns, Blake's, Ace, Seattle, Stem, Virtue, Wolffer, Vander Mill, Starcut, Aspall, EZ Orchard, Crispin, JK's Cider, Woodchuck, Eris, & Strongbow!
Tickets Include:
- Entry into the event
- Personal 5oz glass
- 6 tickets to be applied to any cider or game
Must be 21+ to purchase